Los envases airless conservan los principios activos del cosmético por más tiempo y se han posicionado como uno de los más demandados para fórmulas beauty. Las propiedades del envase evitan la contaminación del producto por parte de agentes externos.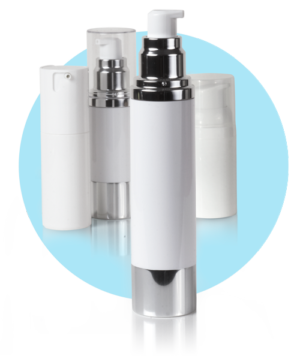 This new container really makes the most of the product,
with absolutely no wastage.
This is all thanks to the mechanism which, when pressing the dispenser, generates a vacuum effect that pushes the product outwards without letting air into the container.
Airless containers preserve the cosmetic's active ingredients for longer and have become one of the most sought-after types of containers for beauty formulas. The container's properties also prevent contamination of the product by external agents.
When pressing the dispenser, the AIRLESS pump creates a vacuum effect and extracts the air and dispenses the product
The product is pushed upwards through the plunger by the AIRLESS pump.
The plunger is positioned under the product and pushes it upwards through the vacuum effect caused.

It makes the most of the product (no wastage).
Better product preservation.
Recyclable materials: polyethylene and polypropylene.
Compatibility and functionality tests performed in different desities.